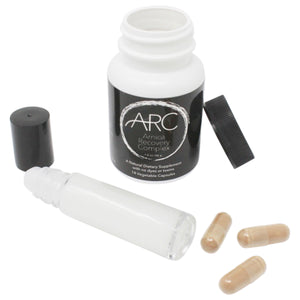 Arnica Kit (Supplements and Arnica Roll-On)
Sale price Price $29.99 Regular price
Arnica Kit includes:
1) Arnica Recovery Complex Supplements (14) 
2) Arnica Topical Roll On
Arnica Recovery Complex- Supplement
DESCRIPTION
Arnica Recovery Complex is designed to relieve the appearance of generalized pain, trauma and swelling. The all-natural supplements can also be used with a Arnica Recovery Roll-On (included in kit) or topical for combined pain relief.
BENEFITS
Reduces the appearance of pain, swelling and discoloration from bruises • Recommended for patients to help alleviate the appearance of bruising, swelling and redness occurring from medical and cosmetic procedures. • Arnica Recovery Complex capsules provide reduction in the appearance of widespread pain relief for the whole body and may be combined with Arnica Recovery Roll on applicator, or other ointments. • These quick-dissolving tablets do not cause drowsiness or interact with other medications.
APPLICATION
Begin taking one capsule, twice daily, two days prior to any medical or cosmetic procedure. • Adults and children 10 years of age and older: Recommend 2 times a day until relieved, or as directed by a doctor. 
PRODUCT INGREDIENTS
Arnica Montana [Blossom]- 1,000 mg minimum Vitamin C- calcium ascorbate 240mg Grape Seed Extract 4 to 1- 240mg Bromelain- 100mg Rutin- 100 mg Iron 14 mg Calcium 50mg Proprietary blend Citrus bioflavonoid complex 50% (10mg) Hesperidin complex (50mg)Eriocitrin [eriodictycl 7-0 rutinoside] 50% (10mg) BENEFITS • 
Confidential: This document contains technical information intended for professional educational purposes only, and may not be duplicated or distributed in any manner.